Aug 31, 2020 • 11M
Unseen Fiction - Episode 6
Speculative flash fiction crafted in South Asia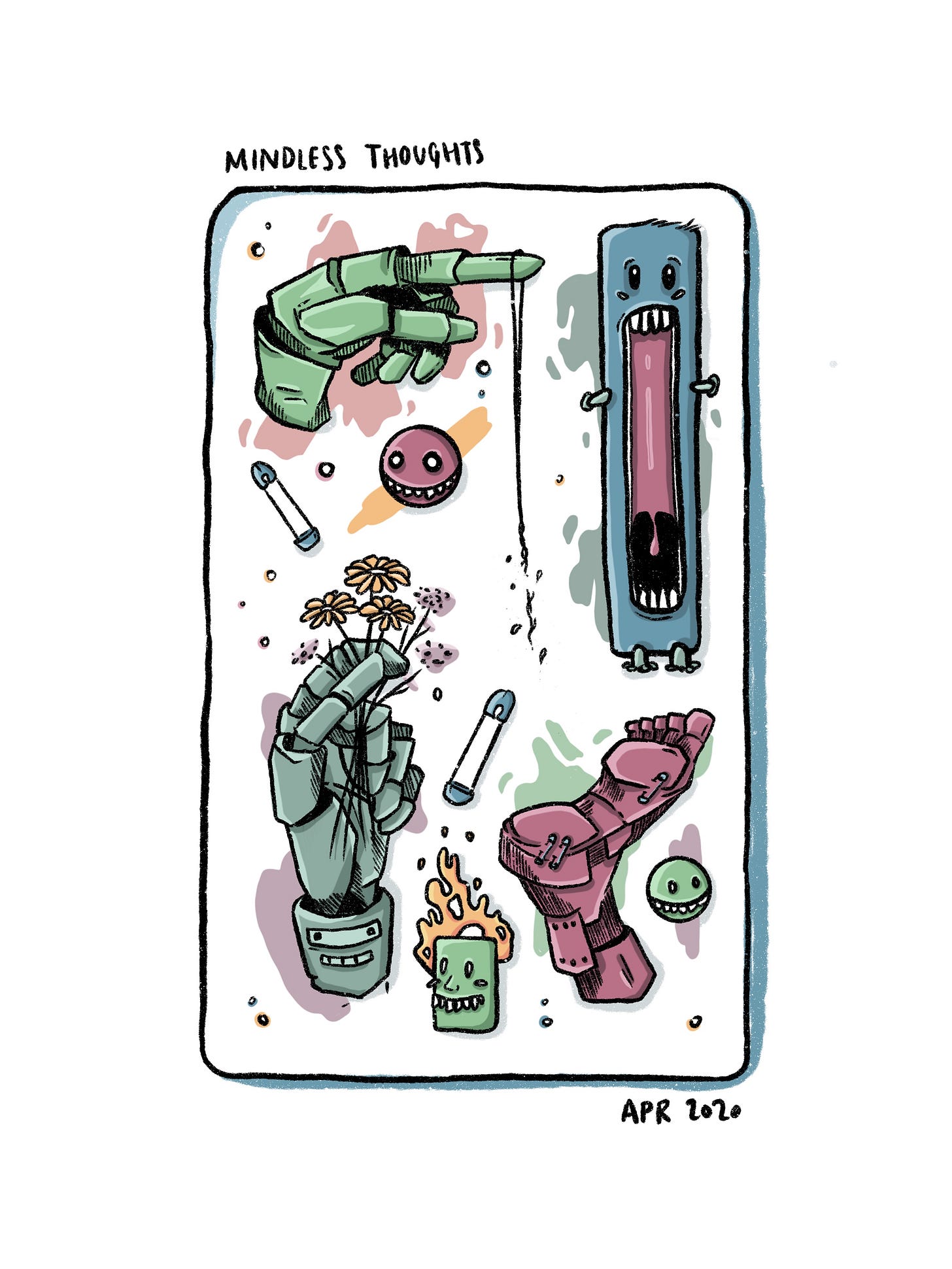 Welcome dear sojourner to our little space in the void - Unseen Fiction.
We are attempting to fill the void with speculative fiction from South Asia. It's our sixth episode and once again we have two stories for you.
The first, about a hunt through the jungles of the British Raj, and the other, of a nondescript mp3 player.
Between the pandemic and our lives, time is short, and so are our stories.
Stay awhile, and listen.
Leopard
BY NIKHIL  
"Gora sahib is never wrong." 
He hates the porters. He hates their kind but they are right. Col. John Culbertson is always right. The beast had been this way. The tracks are fresh. 
They had been tracking the beast for three days. The hunting party is down to three due to sickness and malfeasance. His khaki jacket is down to a single epaulet and his boots are clad in mulch, green like the vines around him. His rifle works. He had tested it last night on one of the villagers.
If he closes his eyes, he can see the girl with long black hair past her waist, glistening like obsidian. They had come upon her near the river. He had heard her tinkling laughter and stalked her along the narrow dirt path, back to the village. He lost her but they stayed the night. 
He was death and he made sure the village remembered him as such.
In the night, he dreams of the villa they burned down, with its one open window, its broken roof with the sunlight pouring in, and of running down an ochre river of mud during the blasted monsoons; a fight for their lives, against piteous farmers with scythes. On the dream battlefield, he sees her. He can smell the oil on her hair. He longs to bury his nose in it. 
He runs towards her and wakes up in the middle of the night, in a familiar jungle. He smells the oil again. She is near. Tinkling laughter. He grabs the gun and marches off in the direction of the sound, towards the cliff.
He doesn't need the porters. The gaonwalas are pack animals. Survival is enough for them.
Every year in Hindostan, he has felt surrounded by more and more ghosts. Now, it is the ghost of the British Raj that surrounds him. They are going back. He doesn't have long here but he wants to be remembered for being more than a soldier. He wants to be remembered as a hero. For that, he needs glory. For that, he must bag the beast. 
He spends the night wandering, looking for the beast. Or is it the girl? He is no longer sure what he is looking for. He knows he is lost. He is all but ready to give up when he sees light. It must be the crack of dawn, he thinks. 
He stumbles out of the jungle onto a cliff and he sees her, standing quietly on the edge of the cliff. 
She is looking right at him. He stares transfixed. He feels himself walking forward slowly. He tries to lift the gun and realizes his hand is empty. Feeling betrayed, he opens his mouth but finds himself speechless. In the jungle behind him, the monkeys are excited. He sees and he understands. Each sinew, each bone, each claw kneading this perch of stone. Her liquid amber eyes flash, her arching back, her fearful symmetry. She laughs. The leopard leaps.
Bio: From Bombay, in San Francisco, day - boring tech job, night - great clown pagliacci
Twitter: doppelhanger
Timetravel.mp3
BY LOGESH 
I am searching through an old cupboard. What am I searching for? Nothing. Surprises maybe. Lockdown has me digging through old stuff - probably an extension of scrolling through pictures from good ol' "normal" days on my phone.
I sit on the floor and empty the box. Nothing interesting - a bunch of batteries, a broken motor, wires, a watch and an mp3 player, which I don't remember having. Now that's interesting. I turn the switch on. The small old display turns on with a beep as I quickly find my earphones and plug them in. I scan through the folder names only to find a folder carrying my name amongst other files.
I open the folder and find all my favorite songs together like a dream playlist that I always wanted to make. I impatiently press shuffle. "June ponal" by Harris Jayaraj starts  to play. A banger of its time. I close my eyes and take a deep breath in anticipation. Can't hear a thing. The volume's low. I quickly pause the song not to miss a beat, turn the volume up and start over. I close my eyes, take a deep breath. Here it comes. Ecstasy!
My eyes open and I'm in the exam hall. I'm writing my last exam of my 4th grade. I gasp in complete surprise. What just happened? June ponal continues to play from the marriage Hall just beside my school. I remember this exact moment. I remember seeing squirrels playing on the tree just outside the window. There they are. And I must have got boring long answers remaining which is also true. I'm breathless for a moment. Do I make a move? No, I just sit through it restlessly. I look at my other classmates. All busy with their exams while I look outside in joy for I know the  moment's more important. Everyone's gotta pass till 8th grade anyway.
The song's almost over. What now? Eyes closed and a deep breath for the next song? I do that anyway. It all feels like a dream that you know is a dream but you still play along because it's beautiful and you don't want it to end. So I play along.
It's "Vaanthooral (Drizzle) by Yuvan shankar raja - my favourite composer. Enough description I guess. It's vacations after my second year in college. I'm on my way to pick mom from some meeting in a village nearby. The road's empty and this track comes up on the car radio. And I smell rain. Woah, yes! Now the sky pours down. I stop the car, raise the windows, lower the seat and rest. I remember I was late to pick her up and got told off to have her waiting in the rain. Meh. I have a few more miles ahead to plan my excuse - which she won't take anyway.
The next song kicks in. A masterpiece from Yuvan - " Thuli thuli ". I'm fielding near the boundary, waiting for the next ball to be bowled. Summer vacation it is. I just completed 7th. We are playing out on the street as this song plays from our neighbors house. I stare at the evening sun glaring through the trees above. I lose count of the score which means the opponents can cheat. Meh. But my cousin's coming home tomorrow. I have to hide my stuff tonight. I have to make plans for that. Now this is real danger. But gotta wait for the song to end.
What will the next song be? Wait how do I ever go back? When will this end? I panic for a moment. Probably when the battery runs out. I have nothing to do in the present anyway. Not even long answers to worry about.
 So I take a deep breath.
From the Editors:
Our Logo was designed by Chandan Nale: Instagram  & Portfolio
Cover art by Riya Allen: Instagram and Behance
The soundtrack for this week is "Multiverse" by Ketsa.
We hope you enjoyed these stories. 
Twice a month, Unseen fiction brings you speculative flash fiction crafted in South Asia. Follow us on twitter - - @UnseenFic  for updates.
We are accepting stories here! Email us at unseenfic at gmail, write a comment here, or drop a hello on twitter if you have feedback,  would like to collaborate, narrate, sponsor or just say hi. (We're working on getting shorter sentences)
See you next time
 This work is licensed under a Creative Commons Attribution ShareAlike 4.0 International License.